By Matthew | March 7, 2015
Some thoughts from my partner of seven years, Matthew…
More and more people are thinking outside the confining cage of social norms these days and exploring the option of opening their relationship. While this is something that can be truly amazing and freeing, there are a number of considerations that should be made piror to, and during, the process.
What kind of door is it that you are about to open? A single or double door? Revolving door? Sliding door? A Security Door? Here is a very short list of some truly important items that you should also think about:
1. Move Slowly
There should be no reason to rush this process. If you find there is a high degree of expedition in your partner's, or your own, eagerness to open the door, examine it. Do not go forward with the process if one of you is not happy with your current relationship. If the door you are opening is not well adjusted, balanced and oiled; it will not function properly. In other words, someone could get hurt.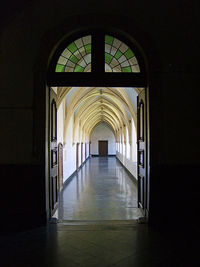 Opening doors can lead to many great things.
2. Define Guidelines
It is extremely important to discuss limitations and you should certainly have some in place at the onset. These can be any number of things.  Perhaps you would only like new partners to use the front door, keeping the back door reserved for yourselves. Safer sex is a must of course.  A great way to start the guidline discussion is:  Who? What? When? Where?  (The "Why?" should have already been discussed by the time you get to setting up guidlines.)
3. Mutual Respect
It is imperative that everyone involved feels respected.  From primary partners, to new partners, to potential partners. Don't slam the door in anyone's face once you've opened it. Of course, you aren't going open the door to anyone who you don't think should come in, so there should be no need to slam a door. However, there may be a need to lock it sometime. People who choose not to respect your relationship with your primary should remain outside of the door, knocking.
4. Be Honest
Do not be afraid to acknowledge any feeling you have, no matter how small or silly you may think it is. Those small emotional responses can smolder and turn into a raging fire quickly if they are not placed on the table. One thing that you can be sure of in life, aside from from the fact that you'll die someday, is that honest, mature communication is always beneficial.
5. Jealousy
Be prepared to experience being emotionaly uncomfortable at some point, no matter how many times you talk about it, no matter how strong your primary relationship is. Early on, and even sometime after you've opened the door, you will naturally long for your primary partner and/or even wonder about the stability of your relationship when they are with someone else. Do not feel like you are doing something wrong, or are inferior. Realize that you are in love and keep being open and honest with each other.
Remember, what you are attempting to do is what so many other people are already doing, except they are climbing through windows. It's much better to use the door.