By Kendra Holliday | November 11, 2016
This year was the fourth time we've been to the cabin, and it flew by faster than ever. The day after we returned I was really grumpy, suffering from cabin drop and feeling very put out that I had to take care of all the necessary duties and resposibilities instead of lying around all tied up in front of the fire sticking ginger up my ass.
Excuse me?
Every year we enjoy all the favorite traditions (watching Westerns, building fires, stargazing, listening to Iron & Wine, wearing pajamas or nothing the entire time), but we also like to incorporate something new into our repertoire.
Lately I've been on a ginger kick. I love theme events, so I packed a bunch of ginger goodies: tea, men, liqueur, soda, and of course, the root itself.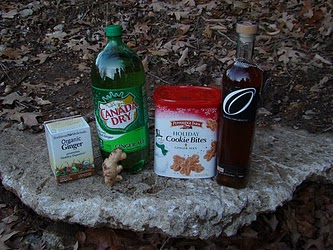 I was determined to drink the entire bottle of The Big O ("there's nothing fake about it" ) that weekend (we all have our goals), but I couldn't quite get there. It started leaving a sickly sweet mossy film on my teeth that no amount of brushing could remove from my ginger-spiced psyche.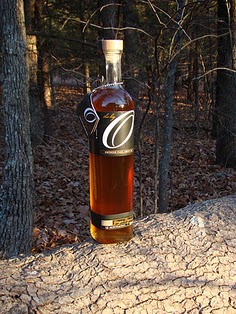 We also brought along this awesome vulva ornament our dear friend Rockabilly Girl gave us to hang above the fireplace:
Speaking of the fire, we had one blazing all weekend long, from the moment we crossed over the threshhold until the moment we regretfully stepped off the front porch to take our leave: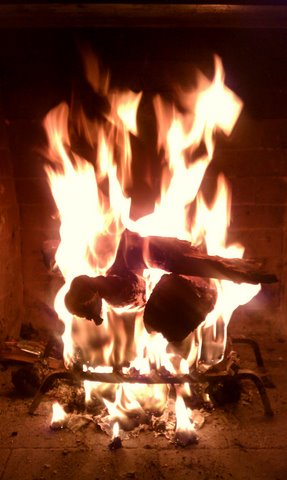 I loved how my signature K pendant glowed in the firelight: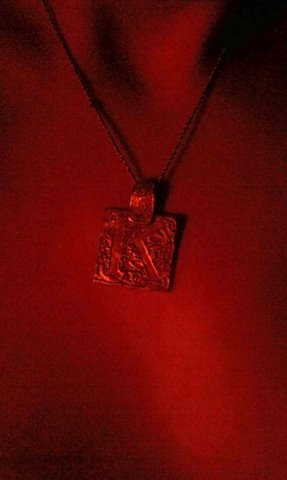 Five minutes after the fire was blazing merry and bright, I stripped off a few layers and stood in front of Matthew in a tight tank top and boy shorts, a look he can never resist, so he pawed me and bent me over and we fucked as a necessary course of action.
Then we got in the hot tub and watched movies and ate a bunch of good shit and fucked again and so on until it was dark out and we stepped outside and were stunned to see the brilliant country starry night
The sky I normally see in the city:
The sky I saw out in the magical countryside, where humans interfered less with nature:
Like heaven, the cabin is a timeless experience. At one point, I was sitting by the crackling fire, wrapped in an ultra-soft blanket, sipping spiked apple cider and writing my holiday cards while Matthew snored nearby like a living, bearskin rug. Despite the appearance of my horrible unromantic handwriting, I was filled with woodsmoke, love and gratitude.
Then there was the ginger experiment.
Here is a closeup of the ginger I selected – doesn't it resemble a bear fetus?
Next to the fire, he lovingly and firmly tied me down and slowly peeled the ginger, paring it down with a razor sharp knife until it was smooth, skinless and gleaming. We had read about figging, aka raw ginger root up the ass, and I was nervous. It was supposed to be extremely intense for about 20 minutes, causing a person to writhe and lose their mind, with no lasting damage.
But it didn't do much for me. My asshole is such an uncooperative asshole!
We even put a slice of ginger on my clit, to no effect. But it made me taste interesting, so there's that.
Flogging – figging – knifeplay – being mindfucked and used – "you can create good memories here."
After it was all said and done, I would have rather played with a woman named Ginger than the root; it didn't do much for me. I'm willing to try again sometime with another piece, but I'm thinking redheaded women are more the way to go.
Can't wait for the cabin again. Not sure I can go another year, but we have a few other adventures to knock out between now and then – the Bourbon Trail in Kentucky, Dancing Rabbit, and more…