By Kendra Holliday | July 3, 2017
I call her my dream girl because every time I dream about something, she makes it come true!
Let me give you an example.
The other night she came over for a sweet and dirty little threesome with Matthew and me. We started out with some cocktails and conversation.
Then, we retired to the bedroom, which was bathed in a reddish, golden glow from the mood lighting decorating the walls.
I lounged on the bed as they stood before me. Steffy undergoes the most amazing transformation every time she stands next to big, hulking Matthew – she shrinks! She looks like a little girl, and she gets all giggly, too. She was wearing an adorable fuzzy pink vintage sweater, which made her appear even more feminine.
He circled her like a lion courting a lionness, the way a predator romances his prey, loving, respectful… and with great intent. He tilted her chin up, exposing her neck for him to nuzzle…
Overcome with excitement, I hopped up and wriggled between them and whispered, "I want a Butterfly Threesome."
"What is that?" they asked.
"I want Matthew to be the body, and for us to be the wings on either side of him, and for him to go back and forth between us, until he finally cums inside Steffy."
Since we're fluid bonded, this kind of rare scenario was a possibilty for us. I honestly get more excited watching my loved ones fuck than I do being right in the middle of all the action – I'm such a voyeur!
It's important to be relaxed and giving during a threesome. If you ever feel like you're not getting your share, don't worry – you can make up for it later.
We shed our clothes and prepared for our tripling. I lay on top of her and we made out, sighing into each other's mouths. Our pussies were stacked and inviting. He got down low and ate her pussy at length, really worked it over until she bloomed. Mine quivered in anticipation and finally rejoiced at the tickle of his beard and warm, wet mouth. He growled and licked as she stroked and held.
He came up for air. I could feel him looming and rooting around behind me, preparing to fuck something. I couldn't see him, but I knew he was raging hard. He always gets that way when he hits the lovely ladies jackpot. I wondered where his cock would plunge.
It found its home deep inside Steffy's tight pussy.
He pretty much fucked her like a lion, too. Have you ever seen lions mating? Primal, roaring, gripping… now imagine me squished between them.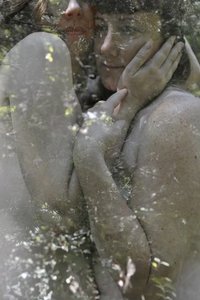 Steffy & me
She was cooing and gasping as he thrust into her and filled her up, so I clamped my hand over her mouth to keep her quiet, which made her squirm even more.
I involuntarily ground my aching crotch into her hip as if I were the one getting fucked. I was grooving off their sexual energy, it flowed through all of us.
It didn't take him long to explode inside her. He totally jungle fucked her.
He pushed my top half out of the way so he could collapse into her, kissing her deeply.
Afterward we all examined her cream pie pussy with great curiosity and delight.
"She clamps it in there," he observed. Not me, my pussy spits it right out. "She wants to get pregnant," he leered.
She laughed. "Good thing you're seedless!"
I gently poked at her swollen, creamy laced lips and marveled at what just transpired. Another dream cum true…
Then he positioned me so I was lying on my back. He pinned my top half down and worshiped my breasts while she expertly tended to me below.
I LOVE HOW SHE LICKS ME.
Such a tiny tongue, it didn't take long for me to tremble with orgasmic relief.
Afterglow.
They got up and dressed, but I curled up in the warm, rumpled bed.
"Hey, we didn't get to do the Butterfly Threesome!" I said with a start.
"Yeah I guess that was more like The Grasshopper," he admitted.
"I was like a little leaf stuck between you!" I laughed.
He promised we would work on more positions next time, which suited us all just fine.
He drove her home and I passed out right where they left me.
After he dropped her off he texted me: "My beard smells A-Fucking Mazing!"
But I didn't read it until the morning.
I have a dream girl named Steffy.