By Kendra Holliday | November 3, 2011 at 7:15 am
I'm presenting & PLAYING at
Playground Conference!
I'm so excited!
I've been loving my new job, but it's making me feel…so normal.
I need to get my freak on and recharge my sex-positive battery.
So it's great timing that I'll be presenting at Playground Conference this weekend. I'll be leaving in a few hours! (Here's a little video I did about it.) Samantha Fraser is the ethical slut behind all this.
I'll be on at least two panels – one is about slut-shaming and will be led by Heather Jarvis, co-founder of SlutWalk.
The other is about submissive women who identify as feminist. Here is the schedule.
I'll get to party with some awesome new people (Reid Mihalko! Dr. Ruthie! Lux Alptraum!), and check out a four story swanky swinger bath house!
I'm so grateful for an opportunity to return to Toronto to present at a conference that features people like me. I felt a bit out of place at ideaCity, like an alien.
I'll also be meeting with publishers from Green Candy Press to go over my proposal for my book about motherhood and sexuality. It's going to be called
Momsexual: The Most Common, and Most Controversial, Sexual Orientation
Thank you to Morpheous for connecting me this amazingly progressive publishing house.
Things have been so incredible I can hardly keep my head on straight. Feeling extremely emotional, happy, overwhelmed, freaked out – ALIVE. I am eternally grateful (not a cliche, I can assure you) to my partner Matthew for keeping me as sane as possible. Watch for an article from him Monday featuring his favorite subject!
And yes, I still owe you an update on the custody situation. I've been waiting for the official word. I will post an announcement next week.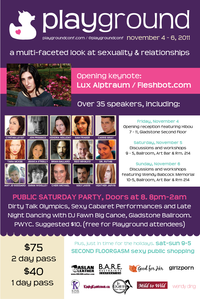 (View complete Playground Conference flyer HERE.)