By Kendra Holliday | May 13, 2018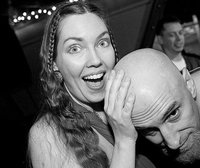 To Catch a Creeper –
photo by Crystal Rolfe
I've been very good friends with Cap'n Marrrk and his wife ever since I met him online five years ago. At first we were email pals, but then I had an emergency – I had to vacate the guy I was living with's house immediately and was homeless. I put a plea out, and Mark showed up to help. We've been fast friends ever since.
Here is what he has to say about reaching out to women online.
"I read Melissa's article in XO Jane etitled 'Please Don't Send me a Picture of your Weiner and No, I Don't Want to Meet Up' and it got me thinking several unpleasant truths about myself that have been swirling around my head for the last few days.
To wit: Am I a 'Creeper?'
The term has been turning up a lot in one of my social circles, and while it's been vaguely defined by people I know, as in 'X is kind of a Creeper', no one has sat down and defined it. You just know one when you see one.
I looked it up on Urban Dictionary and got, 'someone who uses facebook but is looking at other people's profiles, going through their pictures, their statuses, their wall posts, their picture comments, subscribed to random people, their pages, liking comments on statuses from other people, It's a lot like stalking but on more than one person!'
But I think it goes further than that, to actual contact with said person. So it's not just adding them as friends, but actually communicating with that person.
Am I a Creeper? The unpleasant truth is, Yeah, I think I am.
Fuck.
So let's get back to the article. Melissa has been outed as the 'Hooker Teacher', and this causes men all across the country in their 50's to reach out and make contact. Most of them are encouraging and supportive messages, with the odd cock shot thrown in from time to time. Melissa's main point is:
…my putting myself out there, literarily or otherwise, is not an invitation for people to publish poorly researched or purposely false news reports. And it's not an invitation to everyone on Earth to get to know me privately.

The idea that any woman who has, at any time in her life, made herself sexually available (for money or for any other reason) should then, automatically, be perceived as available to everyone — sexually or otherwise — is absolutely wrong, and yet it's insidious.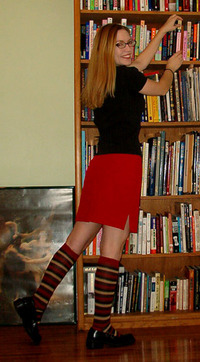 This is the pic that caught Mark's eye
Thinking about it, that's exactly how I met Kendra. I was cruising StumbleUpon for local girls and I saw a photo of Kendra, liked her librarian look and stumbled on to her blog.  Before long I was commenting, sympathizing with her woes, then one day I found myself helping her move. Yeah, that's how we met in person. She needed help moving, and I helped her fucking move. A friendship was born and continues to this day.
Let's jump forward a few years to the Age of facebook and Twitter. I'm now communicating with at least four, maybe five women who, while not all explicitly talking about their sexuality, fit my criteria of Sexually Open.
And what am I doing? The same socially awkward shit that I did in High School that didn't get me laid – I became the asexual e-friend. My eyeballs are rolling around in my sockets as I write this, but it's true. I'm not too different from the dudes in Melissa's article that say things like:
I just read an article about you on cnn's web site. I am sorry you lost your job. People need to understand that nobody is perfect and people make mistakes. I hope you find a job soon or hope that something good comes out of all this. Good luck!!!"– Edward in Orient, Ohio.
These women will likely never sleep with me, yet there's a belief in some kind of magical transferal that makes us believe, 'If I'm the supportive friend, you will want to fuck me.'
I hate to say it, but remember the lesson from High School. It didn't work then, it won't work now. This is not an argument to not be that guy. Go ahead, I love being a nice guy, but check your motives at the door.
Why are you saying these things what are YOU getting out of the exchange? Are you trying to be the nice supporter or do you really think the scales will fall from the object of your affections eyes and they will jump into bed with you? Some people just like pining for the unattainable, who knows. The mind is a tricky bastard and is made up of component parts that fight for emotional dominance THEN create a story full of cognitive biases to soften the blow of your decisions after the fact. But the fact is our minds, the story creating machines, are creating links where there are none.
Now for the being Human part. Much like masturbation, nearly everybody creeps and lies about it. The question is, what are you doing about it? There is a lot of talk in the air about privacy issues, and a lot of people have tried to lock down their accounts as tight as they can, while others vomit out the details. I'm going to say, that I believe it's your behavior that makes all the difference. It's one thing to read the details of another's life, and it's another thing to mention those details in a personal way, or inserting yourself into their lives (on-line or off line) without being invited. It's uhhh, creepy. Creepy enough to be brought into a conversation about how Men communicate with Women in the Age of Total Information Awareness.
Me, I need to rethink my own behavior and whether or nor I want to keep beating myself by imagining deeper connections with people I've never met (or rarely spoken to in person) than are actually present. Electronic intimacy is several orders of magnitude removed from personal intimacy. It would do well for me to remember that."
———-
So, what do you think? Is my friend Mark a creeper? If he is, is he a bad creeper or a good creeper?
In case you need a few more visuals to decide, here you go:
This is a pic Mark sent me when I told him how much I hated Crocs:
This is a pic of Mark stalking someone from "God Hates Fags" (photo by Josh Disher)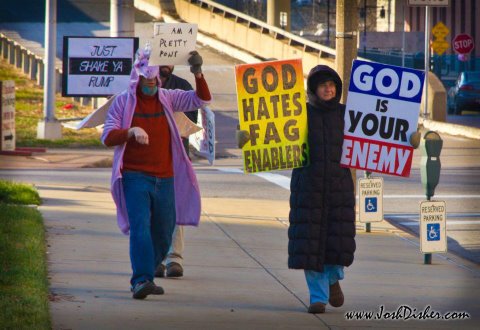 OK, maybe I shouldn't show you this next picture of him fondling a mannequin that resembles Billie Piper.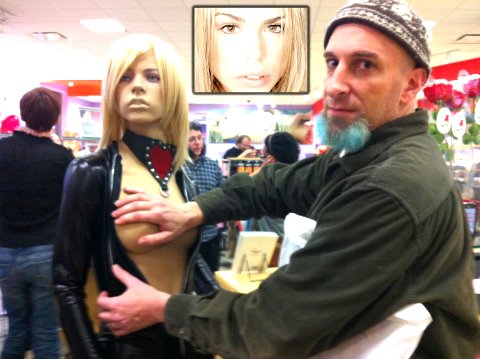 PS: It really, really helps that his gorgeous wife is a fellow Queen of Grace.