By Kendra Holliday | February 29, 2012 at 6:15 am
Have you heard of My Princess Boy? It's a book that celebrates boys who feel happiest when wearing clothes most commonly reserved for girls in our culture. Do you ever wonder what happens to some of those boys when they grow up? Some feel terrible shame and keep their truest desire to dress in the clothes they like best a secret.
Others find the courage and support to go out there and make their dressiest dreams come true. Here is my friend H.'s story…
Trying on dresses at David's Bridal
I have been cross-dressing since I was a little boy. I have always had a love for formal dresses and wedding dresses. Over the past year, I contacted several bridal shops asking if, as a male, could I come into their store for a fitting before I bought a dress.
Repeatedly, I was told flat out NO!
I had the wrong genitals between my legs to be welcome as a customer.
On December 16, 2011. I contacted David's Bridal asking them the same question I have asked others in the past.
I was told by David's Bridal I was more then welcome to come in for a fitting and try on dresses, when would I like to come in for an appointment? I talked it over with my wife to make sure it was all right with her for me to do this.
My wife told me if that's what I wanted to do, I was more then welcome to schedule a appointment. My 50th birthday was just two months away. I could not think of a better way to spend my 50th  birthday. I called the David's Bridal in Fairview Height Illinois and talked to the customer service rep.
I made my appointment on December 18, 2011 for February 17, 2012.  David's Bridal asked me to go to their website and register and pick out what dresses I liked best.
My big day finally arrived. I was extremely excited and very nervous. After taking a shower, I put on my white bra and panty set with the matching garter belt and white stockings. I told my wife I wanted to leave early in case we ran into traffic problems on the way there. I arrived at the store at 10:30. The store did not open until 11:00.
After 30 minutes of nervous waiting in the parking lot, I walked into the store with my wife and two of my cousins, Jane and Robin. I was greeted at the front desk by Lynn.
I was assigned Jenny, a helper who had been there for ten years. I was also assigned another helper who was in training. Her name was Sara. Jenny and I went into the dressing room so she could measure me to see what size I wore.
Jenny and I were talking and I told her I wanted this to be a special day. I told her I had on a garter belt and stockings. Jenny responded with, "You're more of a girl then I am!" I had to chuckle at her statement. At first, I was very anxious. I was in the open, right in the middle of the store. ALL the customers could see me.
Since I had never done anything like this before, I was extremely uncomfortable. Jenny suggested we move to the 360 pedestal at the back of the store. Once I was moved to a more secluded location, I relaxed.
With the help of Jenny and Sara I got to laughing and cutting up with the ladies. I was really starting to feel comfortable and was having fun. My wife and cousins had a great time as well. Lynn, the lady who had checked me in, came back to make sure I was doing all right. I told her yes! I was having so much fun!
I was standing on the pedestal wearing one of the beautiful wedding dresses. A mother and daughter walked by and saw me standing there. They both stopped and just looked at me. The daughter finally said, "That is a lovely dress." I told them the occasion and that this was something I had always wanted to do.
The mother commented, "I could never get my husband to do something like this!"
I guess that made me the brave one.
Jenny brought another dress for me to try on, one that was ivory.
I changed into it and came out of the dressing room and stood up on the pedestal. My wife and cousins could not get over how gorgeous the dress was!  Then Jenny returned with a veil. It looked like the veil was made for this dress.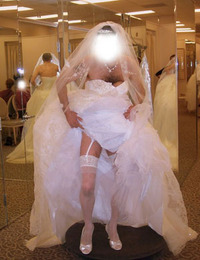 Accessorizing with lingerie,
tiara and jewelry
Sara made a comment that I needed some jewelry. Jenny and Sara walked off together. Sara returned with a tiara and a necklace for me to put on.
I tried on another dress my wife had picked out. Jenny went off to get another slip. Everything was a blur of silk, taffeta, and laughter. When Jenny returned with a fuller slip, she suggested I put the dress back on that every one thought was the prettiest.
It turned out that was the dress I bought.
Jenny told me since I found my dress I had to ring the bell, a ritual that is done when the customer finds their dream dress. I very happily rang it.
After checking out, Jenny asked if there was anything else that I would like. I asked if it was all right to give her and Sara a hug before I left. They said sure! After exchanging hugs, my wife, cousins and I all went out for a very nice lunch.
This was truly a most memorable day. I could not think of a better way to spend my 50th birthday.