By Kendra Holliday | April 1, 2014
Sexy bald man
I used to date a guy who took Propecia every day for years because he was terrified of balding.
I think he was worried he'd end up like Larry David, the bald asshole. He was already cultivating the really annoying personality. I wish he could have taken a pill for THAT!
He'd chide me for wearing makeup, for the shoes I wore, and was against vanity and materialism, so he was pretty embarrassed that he felt so compelled to take a pill to prevent balding. I'm glad he was aware of his hypocrisy – most people are not.
Luckily, he didn't have any of the nasty side effects like current studies are trumpeting – erectile dysfunction, premature ejaculation, low libido. For the sake of his wife, I hope he's still side-effect free, as they say the issues can be long-term.
Did you know there's a website and hair loss radio show called The Bald Truth? It features stories such as:
Accidently Reversing Baldness in Mice Might Lead To Cure for Humans
Pick Up Artist Wayne Elise Advises Hair Loss Sufferers On Meeting Women
Beyond Facebook: The Future of Social Networking For The Hair Transplant Community Is Here
Apparently, there are a lot of men out there who are freaking out about their receding hairline. Is this as big an issue for men as breast size is for women?
The show's host is Spencer David Kobren. He "is the Founder and President of the American Hair Loss Association, the nation's foremost 501 c 3, non-profit organization dedicated to educating the public, healthcare professionals, and the mainstream media about the emotionally devastating, and life altering disease of hair loss."
Life altering, yes, but a disease? I just don't see what the big deal is about balding. I said that to my friend whose hair is thinning, and his reponse was, "OK Kendra, close your eyes. Now imagine YOU ARE BALDING."
I have to admit the thought made me uncomfortable, but for men it's so common! To me, it's a badge of virility – just look at those male hormones raging! I like all the different ways balding can go down – the bald spot, the uniform recession, and one of my favorites, the sides receding, leaving a manly arrow in the center of his head. You know where I like to see that arrow point!
According to Medem Medical Library's website, male pattern baldness (MPB) affects roughly 40 million men in the United States. Approximately 25 percent of men begin balding by age 20; two-thirds begin balding by age 60. There is a 4 in 7 chance of getting the baldness gene.
I asked my friends what they thought of balding. Here were some responses on Twitter:
@_ten_10 _Ten_ I seem to have a ridiculous affinity for bald daddy-types with goatees.
@xcharmxschoolx I like it when balding guys either keep it really short or shave it all off.Takes balls2 go bald. I prefer bald2 thinning compromise
@SIRSteveSTL I think balding might be different for a gay man vs. a straight man. I've been balding for years, shaved 5-6 yrs back.
I think Sir Steve has a point. Why is that? This past year, I witnessed three people tease Beast for his receding hairline. They were all straight male friends of his. Were they trying to make him feel self-conscious? Were they attempting to relate to him? Was it a form of male bonding?
Here were some comments on facebook:
"Personally, I don't care about balding. If someone's attractive, they're attractive!"
"I find men that are balding extremely attractive."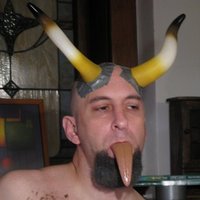 Capn Marrrk knows
how to accessorize
"I think the most important thing is to not fight it. If a guy embraces it, i think it can be very sexy. I especially like younger men (20's) who are loosing their hair and not ashamed of it. I find the honesty sexy."
"Yes, I am. No, it doesn't matter to the women in my life. It has no effect whatsoever on the pleasure I can give them."
"Yes I am and no it does not bother me! I have embraced my balding and I feel better about how I look now than at any other time in my life."
What's your take? Are you balding? Does it bother you? Do women care about balding? Do gay men? Where is all the insecurity coming from?
This is a visual of what my friend Capn Marrrk thinks about it. Being bald makes it easy to duct tape horns to your head, so nyyyyyah!
He's awesome like that.