By Matthew | July 24, 2013
In light of the recent study released announcing that sex addiction is not a mental disorder, I'd like to repost these thoughts from my partner, Matthew…
Tiger Woods Syndrome: Having what society commonly refers to as "everything" (Success, Wealth, Fame and Family) at the cost of one's true self.
Tiger Woods is one of the most well known athletes in the world, and reportedly the highest paid ($90.5 million from winnings and endorsements in 2010 alone). He has 113 tour wins including 14 major championships and holds a number of records in the golfing world.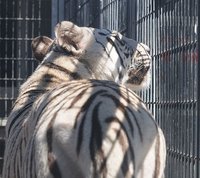 Get out of the cage Tiger!
Was he living The Dream? Depends on who you ask.  I think he was living A dream. Someone else's. Not his. Certainly not mine. I don't make a thousandth of what he makes and I feel completely satisfied with my life and relationship. I can't imagine making that much money and not being able to be true to myself, be honest in my relationships and own my life.
Some say he had it all and that he threw it away when, in 2009, it was revealed that he cheated on his wife.  I beg to differ.  I think the point at which he threw anything away was when he relinquished too much of himself in order to satisfy traditional wedding vows in 2004.  His mistake was agreeing to be in a relationship with guidelines to which he could not adhere.
The Cost of Monogamy
I was monogamous for over ten years because I committed to it.  I wouldn't change anything about my past, but believe me, I won't be repeating it.  Looking back, I am quite aware that there were aspects of that relationship which hindered me. I do not believe, however, that monogamy was one of those aspects. I am a true believer that monogamy does work for some people.
It is clear to me that Tiger Woods is not able to commit to traditional monogamy.
A friend of mine, who is struggling over whether or not to stay in a relationship that would keep him monogamous, told me that one of his reasons for staying would be to "make an honest woman of her".  My friend is not monogamously minded, even if he commits to it. So, I asked him if making an "honest woman" out of her was worth making himself a "dishonest man" in the process.
To me, this is exactly what Tiger Woods did.
I certainly understand wanting to make people happy – your family, your partner, your boss – but doing it at the cost of your happiness is seriously detrimental. I think Tiger Woods certainly could "have it all" now, but the only way for him to do that is to be completely honest with himself first. Life sure does have its lessons.  I know that I have learned some great ones. I wonder if Tiger will….
If someone wants you to change, they are either scared of who you are, don't trust you or don't respect you. In order for you to know if they want you to change however, you must be completely honest with them.  Most people have a terrible time doing this.
What is more valuable to you?  Being honest with yourself and true to your wants/needs/desires/expectations in a romantic relationship?
-or-
Placing someone else's wants/needs/desires ahead of yours in order to do the "right" thing; all the while caging yourself?
It would take a whole lot more than one woman, society and someone else's expectations to cage me in that regard.  Maybe I just play with bigger balls than Tiger does.