By Kendra Holliday | September 1, 2018
Would you like to know your asshole better? How about someone you love's asshole? Do you wish you could stick things in it in a way that feels intensely amazing, but are not sure how?
Anal is one of the sex acts I get asked about the most, mainly from women who fear it, and men who want to explore it. To that, anal expert Tristan Taormino chirps, "What's up, chickenbutt?" OK, not really. Instead, she makes videos.
For the newbie set, I recommend Tristan's initial video on the subject, Expert Guide to Anal Sex.
For those who want to take it to the next level, there is the newly released Expert Guide to Advanced Anal Sex.
Tristan Taormino's Expert Guide to Advanced Anal Sex stars Nina Hartley, Bobbi Starr, Kylie Ireland, Adrianna Nicole, Mr. Marcus, James Deen, Danny Wylde, Christian, with special appearance by Sinnamon Love and Tyler Knight.
Note: Bobbi Starr was so charming and special, I had to go look her up. She reminded me of a friend of mine, proof that she nailed the "girl next door" schtick. Bobbi talks about how she only does anal for work because she can prep properly; apparently, sex at home is more spontaneous. It's so cute hearing a porn star admit she's self-conscious about making a mess!
First things first: This video is SO respectful.
AND educational. Which might make you think it's not sexy or worth jerking off to. But it totally is! Tristan manages to include so much information into this video that you can easily flip between learning about how to give an enema to sitting back and getting erotically lost in an intense scene for three hours.
This is a picture of my butt,
which I felt was appropriate
for this review
I hope I watched it all – it went on and on, it's packed with scenes and info. I dunno, there might be some hidden butt plugs I missed.
Watching this video reinforced my respect for porn stars. They are such good, giving, game athletes. So refreshing to see people explore their sexuality in a shame-free zone.  So many people are so secretive about their sex life and act like it's a private activity that should be conducted behind closed doors, like going to the bathroom, so it felt very open-hearted for these performers to keep the door open for us on their backdoor activity.
These are professionals who want you to try this at home.
I love the conversations with the stars before they commence to fucking. There is more eye contact and kissing than you would expect for anal. Watching them kiss is what is personally hottest for me.
The actors have real chemistry and connection, they smile, appear relaxed, I get the impression they are friends in real life.
Real orgasms, natural bodies YES
Choking safety girl was such a nice, cute expert. You see that choking move in porn all the time, so it's really nice of them to let young, inexperienced teenage boys in on the behind-the-scenes knowledge.
I SO appreciate the safer sex tips! WOMEN: I HIGHLY recommend you get into the habit of putting the condom on your male partner. I even more appreciate the fact that the sex scenes do not have safer sex props in play, thank you for getting tested ahead of time, everyone!
I also appreciate the classy bedroom sets for their scenes. Nothing distracts me more than an ugly setting for a sex scene. Instead of ugly hotel bedspreads, they employ rich, warm colors, sumptuous comforter covers, exposed brick, elaborate headboards – no laundry hamper or box of crackers to turn me off.
A wide variety of toys are demo'ed, from Nexus Vibro to Aneros to glass to silicone to steel to wood of all shapes and sizes – one of the big butt plugs made both Matthew and me flinch! And it's not just girl butts getting the attention the boys get penetrated, too, yay! (hence the advanced)
I love the Hitachi Magic Wand use during anal, I am a fan. It's so nice when a sex toy paired with ass fucking makes you giggle with pleasure!
HINT: Many men LOVE having their perineum aka taint pressed on when they are working on ejaculating, so try applying pressure with your hand there.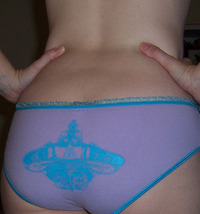 These undies read "The End."
Clever!
There is something for everyone in this visual smorgasbord. If you're into bare feet, there is a lot of that, no acrylic platform stripper heels interfering. The coupling is beautiful, with handsome male stars matching the female beauty mandatory in these productions
If you like tattoos, you're in luck. Sexy black men, check. Older women, check. (OMG Nina Hartley DP's with an Njoy Eleven!) Pubic hair and shaved styles are represented. One of my favorite details was the purple patent leather heels Bobbi Starr wore that matched her purple butt plug, So cute!
No ubiquitous facial cum shots will be found here, more than one scene ended with no cum shot at all, and one ended one of my favorite ways – all over her ass. I like when a guy cums on a woman's tits, ass, back or tummy.
So, yeah, this video went above and beyond my expectations. I kept waiting to see a kitchen sink in the bed of the next scene. My only gripe is that it overwhelmed me. I sat and watched three hours of anal sex, I powered through it, which left me exhausted. I've had my fill of anal for the time being, thank you. I recommend doling the scenes out like a kinky treat, as a reward to yourself.
Come on, you totally deserve some porn done right.